The 18 Most Important Things to Know
When Getting Dental Porcelain Veneers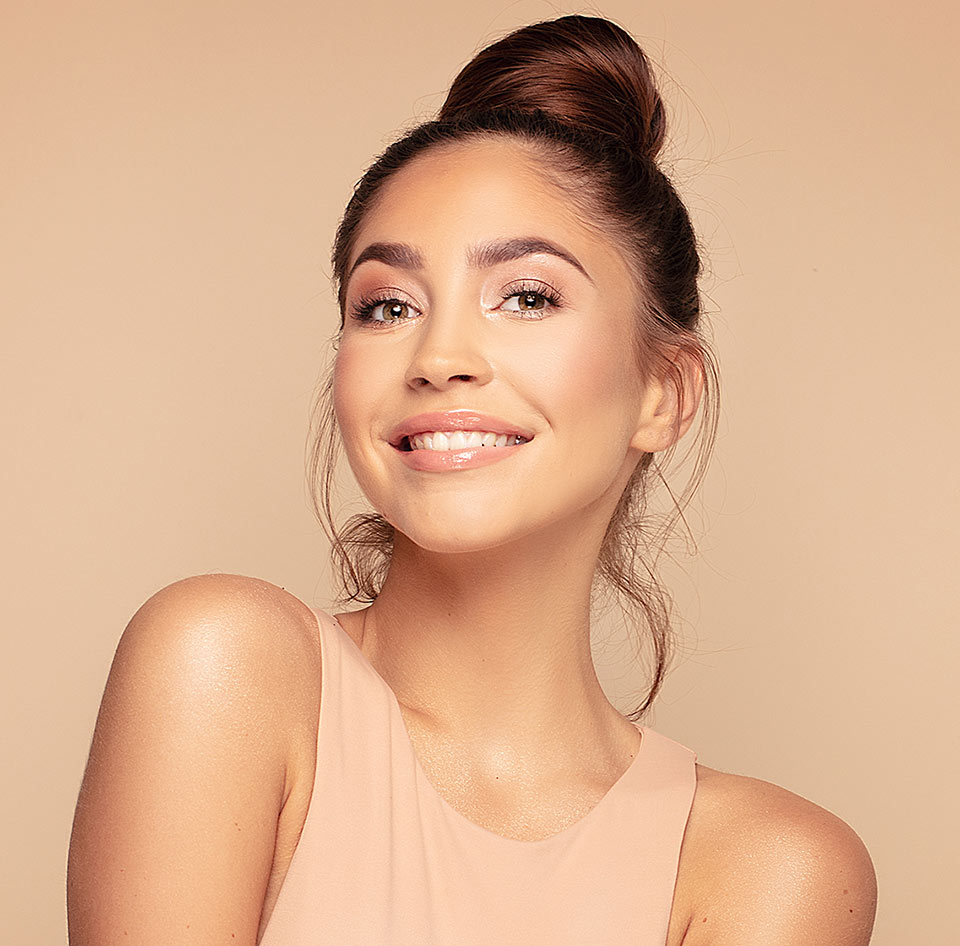 The art of creating
a beautiful smile
Are you dead set on getting dazzling teeth this year? If that's the case, seeing a Sydney dentist about porcelain veneers is one of the best steps to take.
Drs Manish and Kinnar Shah are some of Sydney's most popular cosmetic dentistry providers. And when it comes to transforming the way people look, they say that this innovative procedure is one of the most promising.
"Dental veneers can give you a brand-new smile in just a couple of weeks", says Dr Kinnar "Not a couple of years."
Dr Manish adds that "There's nothing more rewarding than helping someone who used to be embarrassed by their teeth, look in the mirror and burst into tears, because of how beautiful they look after a smile makeover."
But when it comes to taking the steps towards getting dental veneers, there's a lot that you need to know before, during, and after the treatment. We've compiled a list of the top 18 things you need to know about Porcelain Veneers, so that you can be prepared before you ever call the office to set up a consultation. 
1. You can do a Test Drive First
Cars aren't the only things that you can try out before you buy them. With dental veneers, the time and monetary investment is one that deserves a trial run. That's why our highly sought after Sydney cosmetic dentists, first fit you with a "wax up" (aka mock up) of what your proposed veneers will look like. They don't last very long, but you can wear them for as long as it takes to get your friends and family's input and stare at them in the mirror for hours on end. That way you know exactly what you're getting into before you get the permanent ones applied. Want to change something? No problem! That's exactly why we have you wear the temporaries first!
2. Perfect doesn't have to mean "Fake Looking"
The last thing you want from your smile makeover is to have such perfect looking veneers that they look like fake teeth. Some people even refer to them as "Chicklet" teeth after the small square pieces of gum that have been around for decades. We want to add in a few tiny surface differences (or if you really want to call them irregularities you can) so that the teeth don't look so perfect that they're obviously fake. Instead, you want a natural surface and hue — possibly even with a few microscopic flaws or colour changes — so that nobody suspects that your smile isn't real.
3. You don't need a Veneer on every tooth
A lot of people assume that they'll need to pay to get a veneer on ever tooth that they have, including their bottom teeth. That's actually pretty rare (if not unheard of). For the most part, a typical veneer case only involves 6-10 veneers across your upper front teeth. It all depends on your smile zone. More specifically, how many teeth show when you smile. Everybody is different. But in 90% or more of cases, we don't place veneers on the lower teeth (it has to do with the way your teeth bite together and preventing the porcelain from wearing down.)
4. (We think) Veneers are better than Plastic Surgery
Compared to plastic surgeries like boob jobs, liposuction, tummy tucks, and "mommy makeovers," getting dental porcelain veneers seems like a breeze! Plus, you don't have the lengthy recovery time and the results are immediate. You won't be walking around in a bikini day in and day out, but you WILL be able to show your smile off all day, every day. Need we say more? There are no hospital trips, general anaesthesia, or invasive procedures to have to psych yourself up for.
A smile can open doors and change lives.
5. Porcelain Veneers fix everything from crowding to staining
What can veneers fix? The real question is, what CAN'T they fix?! When we bond veneers over the front of your teeth, we're able to hide aesthetic flaws like crowding, discoloration and staining, crooked teeth, gaps, uneven enamel, short teeth, etc. As long as your teeth are relatively healthy and sound, it's possible to bond veneers to the front of them. 
6. They'll eventually need to be updated
Just like a boob job, cosmetic treatments require occasional updating. Most veneers can last for about 10-15 years. But eventually, they'll all need to be changed out with new ones. The material isn't indestructible, so you'll need to make sure you don't use your teeth to open packages or habitually bite on things like pencils and fingernails. The better you care for them, the longer they'll last. It's like any other type of dental restoration inside of your mouth. 
7. There are different types of veneer options available
Not all veneers are created equal. You have choices. Depending on your situation, you might want to go with the traditional porcelain veneers, affordable same-day composite veneers (aka "chairside" veneers) or a no-prep veneer alternative. Each one has its own advantages, but our cosmetic dentists in Sydney will need to see how they relate to your specific situation before advising you on one over the other. Some are better when it's just one or two teeth involved and others are designed for a specific shape of tooth. You'll need a detailed exam with our cosmetic dentists to find out which ones are best for your unique smile.
8. Veneers don't cover your entire tooth
You can think of veneers like a partial "cap" in that they only cover about half of your tooth. On the other hand, caps (crowns) cover the entire surface above your gums. Veneers just cover the parts of your teeth that are visible when you smile. Specifically, the facial side and just over the edges. If your tooth has severe wear or fractures, we can repair it with a full coverage crown that matches your adjacent dental veneers.
9. You can get faster results than other treatments
Time matters. Or as they say, "time is money." So, when you need a great looking smile, you'll want to be sure to weigh the benefits of veneers against other options like teeth straightening and bleaching. Although all of them can help your teeth look their best, veneers complete the process in a fraction of the time. Instead of spending months or even years in orthodontics and then whitening your teeth after the fact, veneers give you straighter and brighter results in only a few trips to our 5 star clinic! Once you get started, you're looking at about a 4-6 week process at the longest.
10. There's no one "Perfect" veneer for everyone
Dental veneers are made in all shapes and sizes. If we were to put bright white veneers with the same contour on every person who came through our doors, it would make their smile look obviously fake. Veneers must be carefully thought out and planned so that their design looks like they could be your natural teeth.
A GREAT SMILE IS A BEAUTY ESSENTIAL​
11. Let your dentist know before you get lip fillers or other facial procedures
If you're planning to get plastic surgery, a face lift, or even injectables in your lips, let your cosmetic dentist know. The way your lips and cheeks rest against your teeth play a big role when it comes to designing natural looking porcelain veneers! That's not to say you can't get those treatments done, but it could change the way your smile looks. In some cases, a cosmetic dentist will use injectables to help give your teeth the perfect new "frame" that brings out your best appearance!
12. There's more than one shade of white
Selecting the best colour for your new veneers is a complex process. We want to make sure the hue compliments your natural skin tone, eyes, and hair. Our Sydney cosmetic dentists use a shade guide with more than a dozen different colours to choose from! In fact, it's possible to combine multiple colours into one veneer, so that the tooth blends from one shade to another from top to bottom (for a more natural look.) 
13. You need to have a great maintenance routine
Just like your natural teeth, dental veneers require a bit of TLC. You'll want to brush and floss around them daily (no, flossing doesn't pull them off) and schedule regular cleanings. And if you're prone to clenching and grinding, be sure to wear a night guard so that your porcelain doesn't chip! Be warned that if you don't floss, it can allow plaque and acids to work away at the edges of your veneers, creating cavities underneath. When that happens, your entire veneer can fall off and might need to be replaced with a crown.
14. Planning can be a complex process
Getting veneers involves a few different appointments. From planning (including letting us know what you like and don't like!) along with preparation and delivery it usually takes at least 3-4 trips to our office. For the most part, you can expect everything to be wrapped up within a month or two. It all depends on how quickly you want to move things along and if extra steps are needed for the smile design. And did we mention that one or two of those weeks are actually you getting to wear a temporary preview of the proposed design? Yep!
15. A tiny layer of tooth is removed
Your new veneer is thin, but when we bond it to the front of your tooth it adds depth to the overall structure. To prevent it from being too bulky, our highly trained cosmetic dentist will need to slightly reduce the outer layer of your enamel as part of the "prep" process. Once your permanent veneers are bonded it place you won't have to worry about anything looking irregular. But a little bit of sensitivity is completely normal. 
16. There are "No Prep" and "Minimal Prep" options available
With traditional veneers, we have to slightly reduce the thickness of your enamel (that way they don't look bulky while you're wearing them.) But if your teeth are already pretty thin, we can add on top of them with prepless veneers so that you can bypass this traditional step! BONUS: If your no-prep veneer ever comes off, you won't have to immediately replace it. 
17. It Takes About Two Weeks to Make Your Permanent Porcelain Veneers
Once you've had a chance to wear your temporary mock-up veneers or given us any feedback on small details you would like to change, we finally get started on having the permanent porcelain versions created. But this process doesn't happen overnight. Each hand-designed shell of ceramic must be expertly detailed for optimal aesthetics and fit. This is artistically done in detail, by our master ceramist technician. All in all, it can take about 10-14 days to complete.
18. Rush Options are Available
If you're in a bind for some reason, our experienced cosmetic dentists can arrange to expedite your veneer design and delivery so that they're ready within a couple of days instead of a couple of weeks. Here's the kicker: It comes at a price. But if time is of the essence, you'll be glad to know there are quicker options available.
It's Time to Change the Way You See Yourself
Your smile is something that you wear every day, whether you're dressing up for a wedding or going on a lunch date with old friends. When you hide it, it can make you seem unhappy or unfriendly. But showing off great looking teeth can help you live your best life and make a great impression on new people. 
"We like to take something that's a source of someone's self-consciousness," 
Dr Kinnar says
Think veneers might be the answer to your smile's woes? 
Visit Smile Concepts in Sydney for a no-pressure veneer consultation and exam. Dr Manish Shah and Dr Kinnar Shah both offer comprehensive smile makeover services, so even if dental veneers aren't right for you, we can find something that is! 
We also offer INTEREST FREE payment plans, to make it easy for all our clients to help them achieve their signature smile. Get in touch, to see how we can help you.